11.02.2021
Foster talents and entrepreneurs – a starting point for success stories like Personio
At Arvantis Group we believe in a fundamental principle: fostering talent can create unique entrepreneurial stories.
SUPPORTING FOUNDERS IS MORE THAN INVESTING CAPITAL
Arvantis Group company Picus Capital invests in early-stage technology ventures. Investing capital is one thing, but Picus thinks entrepreneurial sparring is far more important. Even before a final business idea, product or first customers are in place, Picus thinks it is important to discuss markets, technologies, trends and business models with the founders. Supporting the young companies in their key strategic decisions during the early days such as go-to-market, acquiring first customers, recruiting key employees and fundraising is what Picus sees as being an entrepreneurial sparring partner. With following an integrated approach and investing on long-term, from day one to the IPO and beyond, Picus pursues a sustainable investment approach to be a valuable partner for the founders.
A SUCCESS STORY: PERSONIO
A company that Picus has been able to accompany on its journey since the seed round in 2016 is the all-in-one HR platform Personio. Just a few weeks ago, Personio completed a successful financing round of $125m at a $1.7bn valuation.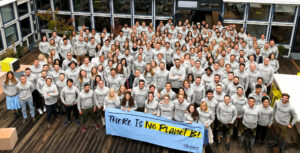 Robin Godenrath, Founding Partner & Managing Director of Picus Capital comments on the success:
"We aim to work with founders, who have the ambition to change entire sectors in the long term and have the talent to implement their visions. The founding team of Personio exactly met these requirements – even at an early stage – and we felt their motivation for building something relevant. Of course, the path from a young start-up to a successful market leader takes time. That's why we are proud to have gone this way with Personio until here and look forward to what is yet to come. There is no better example on how our philosophy works."
INNOVATION STARTS WITH EDUCATION
In line with the overall philosophy of Arvantis Group, Picus believes the roots for innovation lie in education as this gives young talents the groundwork to develop ideas. Picus is currently putting this mission into practice in two ways: Firstly, with the sponsorship of a CDTM scholarship that supports students by covering their living expenses. This way Picus helps to educate the innovators of tomorrow and promote diversity. How fruitful this exchange is, shows the fact that also Personio's founders were part of the CDTM entrepreneurship program at TUM and LMU Munich. The second way is another initiative connecting the dots between students, potential founders and Picus, the initiative "Student Venture Partners". In this program students representing Picus Capital look-out for aspiring founders and exciting ventures at over 60 of the leading universities all around the globe.
We find Picus' approach is a great way to combine both worlds in fostering talents and ideas.